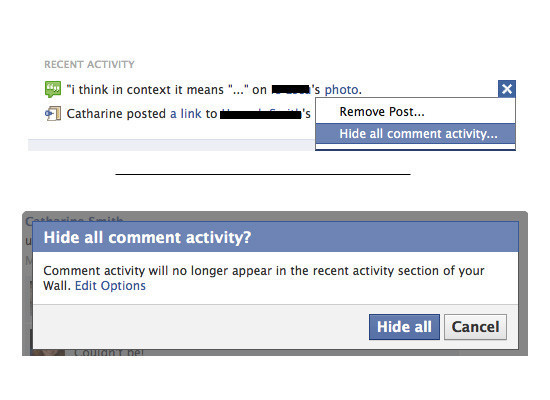 Facebook has rolled out a new profile management tool that lets you hide certain stories from your wall's list of recent activities.
Previously, you had to delete stories one by one from a your wall. But now, you can apply Facebook's "
Hide All
" filter to block types of stories, be they wall posts, friend requests, Questions, comments, changes to your profile, and more.
If you click "Hide All," a confirmation box appears with a link to your story management dashboard, where you can view the types of stories you've hidden already and can relax your own restrictions, if you wish.
If, for example, you comment on lots of photos, you can now block from your wall all stories about your photo comments. You'll still be able to post viewable comments on friends' photos, and your existing comments won't disappear.
This is setting applies only to personal accounts. Writes
Inside Facebook
, "Only users can take advantage of this options -- Pages only have the ability to remove individual Recent Activity stories, not hide them in the future."
Tell us what you think about this new feature (via the Quick Poll) and view screenshots from Facebook. The "Hide All" tool is currently live, so you can try it our for yourself on your Facebook profile.
The Huffington Post

Catharine Smith