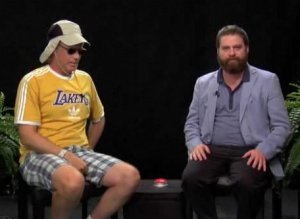 It's been a
few months
since Zach Galifianakis gifted the Internet with a new episode of "
Between Two Ferns
," but today the wait has been totally justified.
The one and only Will Ferrell finally came around to appearing on Zach's
hilariously off-beat talk show
(on Ferrell's
own website
, we might add) and the result is the nearly five minutes of ridiculousness below. Will Ferrell is the second person in "Two Ferns" history to actually match Galifianakis' weirdness (the first was
Steve Carell
) to the point where he overtakes the host.
If you can get past the disturbing and slightly NSFW monkey footage at the beginning (yes, you read that right), you'll be rewarded with all you'd expect from the meeting of these two powerful comedic minds: awkward product placement gags, a man-on-man make out session (with fruit) and even a Jon Hamm cameo (or is it a Hammeo?).
WATCH: