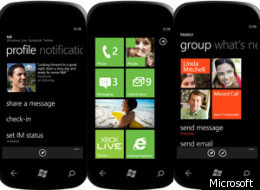 Microsoft has
announced
that the forthcoming version of its Windows Phone operating system, code-named "Mango," is getting a makeover with a slew of new features that aim to make the smartphones more social.
According to Microsoft, Mango comes with some
500 new features
. Here's an overview of what the next version of the mobile OS will bring:
More social networking integration:
The updated Windows Phone OS will enable users to import not only their Facebook contacts (which is currently available), but also their Twitter and LinkedIn contacts. Facebook on Windows Phone will also get several new tools, including face detection software and check-ins. And whereas in the previous version of Windows Phone individual contacts could be placed on the "live tiles" on the phone's homescreen, Mango will make it possible for users to create groups of contacts that are represented by these live tiles, and change that will let users "see the latest status updates and quickly send a text, email or IM to the whole group, right from the start screen," writes
Microsoft
.
Search revamp:
Users have several new ways to use Bing on the upcoming version of Windows Phone to perform a search: the mobile search engine supports visual search using the phone's camera, voice search, and music search, as well as local search via Local Scout.
Engadget
explains that Local Scout "focuses your queries on the neighborhood you're in, providing location-specific results that highlight important information about establishments and events in your immediate area. Clicking through on any link brings up general information as well as reviews gleaned from popular user-generated sites."
App Upgrade:
Microsoft
boasts
that Mango will begin displaying apps in "search results and hubs such as Music + Videos and Pictures," and that multitasking will be available.
New ways to communicate via email, text, and chat: Mango will be giving inboxes a makeover by giving users the option to view multiple email accounts in a single inbox. The new software also presents a new conversation mode by enabling users to switch between text messages, Facebook chats, and Windows Live Messenger in a single thread, with the added perk of hands-free messaging via speech-to-text, and text-to-speech tech.
Microsoft also announced that some 17,000 apps and games are currently available for Windows Phone, a number that pales in comparison to the
approximately 500,000 iOS apps
available on Apple's App Store (which include apps not only for the iPhone, but also for the iPad, and iPod touch).