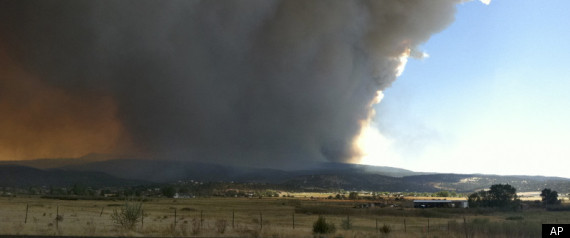 Officials are hoping their efforts overnight will keep a mammoth forest fire from cresting a ridge and racing into two eastern Arizona towns, giving firefighters the upper hand on the 11th day of what has proved to be an overwhelming battle.
About half of the 4,000 residents who call Eagar home were forced to leave Tuesday afternoon as flames from the Wallow fire licked the ridges surrounding the area. Residents in the rest of Eagar and in neighboring Springerville grew worried as they awaited word of whether they will have to flee, too.
"Everybody that's here is suffering from anxiety from this," Apache County Chief Sheriff's Deputy Brannon Eagar told residents who gathered for a public meeting Tuesday night.
"We never thought we'd see this roll over the hill, but it's here and we're going to deal with it the best that we can. Some people are frustrated, and I can understand that, and I'm sorry," he said.
As daylight waned Tuesday, cars, trucks and trailers loaded with belongings streamed out of Eagar as sheriff's deputies and police officers directed traffic. Flames dotted a ridge on the southeastern side of Springerville, and columns of orange smoke rose from the hills. Ash rained from the sky, which was filled with thick smoke, and when the sun peeked through, it was blood-red.
Crews worked feverishly overnight to ignite unburned areas of grass and other fuel to starve the fire in case it burned over the ridge and into the grasslands and stands of trees that border the two towns.
"Right now, it's not moving as fast," fire commander Joe Reinarz said. "This is our chance. When we get it down here in the pinon and juniper and the grasslands, we can make a lot of advances on getting a corral around this thing."
The blaze has burned 486 square miles of ponderosa pine forest, driven by wind gusts of more than 60 mph, since it was sparked May 29 by what authorities believe was an unattended campfire. Now more than twice the size of Chicago, the fire became the second-largest in Arizona history Tuesday.
No serious injuries have been reported, but the fire has destroyed 10 structures so far. It has cast smoke as far east as Iowa and forced some planes to divert from Albuquerque, N.M., some 200 miles away.