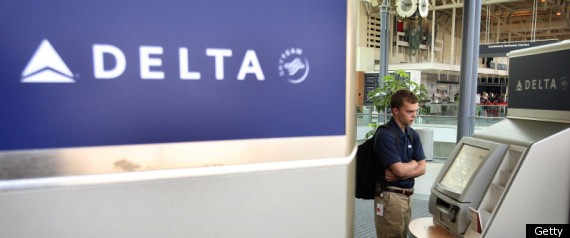 Delta Air Lines is facing intense criticism after charging 34 U.S. soldiers returning from Afghanistan $2,800 in baggage fees.
The incident came to light on Tuesday after a couple of the new-media savvy soldiers recorded a video about their ordeal and posted it on YouTube.
"We showed up and found out we had too many bags," said Army Staff Sgt. Robert O'Hair in the video, which was shot on their flight. "We had four bags, and Delta Air Lines only allows three bags. Anything over three bags you have to pay for, even though there's a contract between the United States government and Delta Air Lines: When returning from Afghanistan on military orders, you're authorized up to four bags."
O'Hair added that all the soldiers with a fourth bag had to pay $200 out-of-pocket. The total for the 34 soldiers was more than $2,800. O'Hair's fourth piece of luggage was his weapons case, carrying the tools he used, in his words, to "protect myself and Afghan citizens while I was deployed in the country."
A Delta social media manager identified as Rachael R. responded in a blog post on the company's website on Tuesday, clarifying the airline's policy: "Currently, Active Duty U.S. Military Personnel traveling on orders may check up to 4 bags in First/Business class and 3 bags in Coach for free both domestically and internationally. Additionally, to help with the travel process, we allow each bag to weight an extra 20 pounds over the standard allowance."
She apologized to the Army unit on behalf of Delta and said the airline would be reaching out to each of them personally "to address their concerns and work to correct any issues they have faced." Rachel R. did not say whether the soldiers would be reimbursed.
"A $200 bill for extra baggage by a government-contracted airline is the worst welcome home any soldier could receive," said Joe Davis, director of public affairs for the Veterans of Foreign Wars, in a statement. "We know this is a business issue and that the troops will be reimbursed if they are authorized additional baggage in their orders, but the shock of even being charged is enough to make most servicemen and women simply shake their heads and wonder who or what it is they are protecting."
The overwhelming majority of the comments on the Delta blog post were not on the company's side.
"Having been deployed three times in eight years, I have never had to pay out of pocket for bags on other airlines," wrote a user identifying themselves as brianmcgovern. "Flying with Delta has always been a crap shoot. We can never tell when there will be an issue with baggage, especially once the major airlines got together and started soaking all passengers for baggage fees."
A user named hotberry simply said, "You people should be ashamed of yourselves."
Delta made $3.7 billion in 2010 off of ancillary revenue -- charging passengers for food, drinks and extra baggage.
According to Stars and Stripes, the men in the video are deployed with the 95th Infantry Division, a Reserve unit in Georgia. In the video, they say they were bound for Fort Polk, La.