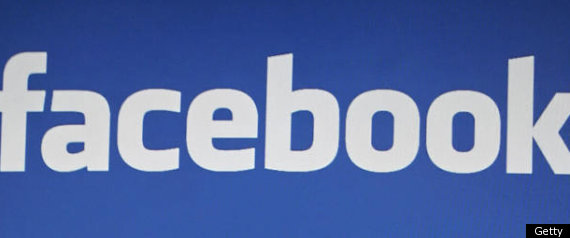 Facebook today announced a major overhaul of the site's privacy controls, which will be rolling out in the next few days. New sharing tools will make it easier for users to control who can see each piece of content (status update, photos, wall posts and more) you share on the site. Chris Cox, Facebook VP of product, explained the new privacy features on the Facebook Blog. "The main change is moving most of your controls from a settings page to being inline, right next to the posts, photos and tags they affect," wrote Cox. Rather than placing users' privacy controls "on a settings page a few clicks away," Cox wrote that users will now be able to modify an individual post's privacy settings--right from the post. For example, if you update your status, you'll see a drop-down menu, located below the text box and next to the "Post" button, that lets you select whether this status update will public, friends-only, or selectively shared with only a few individuals. Cox explained how this feature will change over time: This dropdown menu will be expanding over time to include smaller groups of people you may want to share with, like co-workers, Friend Lists you've created, and Groups you're a member of. These will make it easy to quickly select exactly the audience you want for any post. This sounds a bit like the privacy options offered by Google+, which lets users sort contacts into "Groups" to make sharing content easier and more secure. There will also be an option for users to tag other users within posts and share their location directly from posts. Take a look at the new Sharing box (below).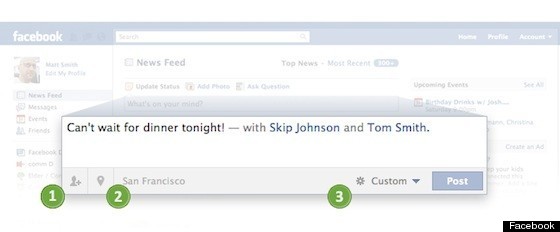 Option 1 lets you tag friends in the post, option 2 lets you tag your location, option 3 lets you manage who sees the post.
Facebook will also roll out new Profile settings that offer in-line controls for you to modify what content appears on your profile and who can see it.
For example, when you edit information that appears on your profile, you'll see an option on the page, next to the section you're editing, that lets you limit how public or private that information will be.
When you're tagged in a post, you'll be able to review that tag before it is pushed to your profile, giving you the last word over what kinds of photos and posts you're tagged in.
You can also change sharing options after the fact. So if you share something publicly and want to make it more private, you can amend the post's in-line privacy setting.
Take a look at how these new controls will appear on your Facebook profile (below).

LOOK: