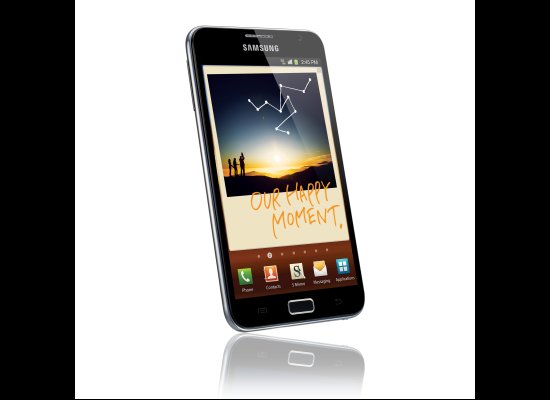 A
t the
IFA technology extravaganza in Berlin
, Samsung
unveiled its Galaxy Note
, a phone with a whopping 5.3'' HD Super AMOLED display that Samsung says is "
the largest screen size with smartphone portability
." The iPhone 4's display screen is also smaller than the Note's at 3.5 inches, but then, if Samsung is correct, all smartphones' display screens are smaller than the Note's.
The Note will also come with a stylus (remember those?) called the "S Pen." Samsung boasts it will "
introduce a new type of user experience
" and allow Note owners to "
freely capture and create ideas on the go
." Though a stylus may not necessarily be a "new type of user experience," the fact that Samsung has included apps specially designed with the pen in mind is nice: The S Pen "has been deeply integrated into the GALAXY Note's native applications," including the ability to send doodles and hand-drawn notes via text and email. (Samsung has made a neat infographic highlighting the utility of the S Pen
which you can view here
.)
Besides the old-school built-in stylus, the Note has a 1.4 gHz dual-core processor, the toned-down Android Gingerbread 2.3 operating system and both a rear camera (8 megapixels) and front-facing camera (2 megapixels). Compare all of this with the iPhone 4's specs: A 1.0 gHz single coreprocessor, iOS 4 (for now) and a rear and front facing camera boasting 5 megapixel and less-than-a-megapixel VGA hardware, respectively.
Samsung
has also announced a new, small tablet called the Galaxy Tab 7.7
. Samsung is billing it as
the world's first tablet to feature the Super AMOLED Plus display
, but the real difference-maker here is the size: A bit bigger than the
hold-with-one-hand Samsung Galaxy Tab 7.0
, the Tab 7.7 weighs 12 ounces and is 7.7 inches by 5.2 inches by 7.9 mm. It will apparently fill that void for tablet shoppers who found the screen size of the Tab 7.0 too tiny and the Tab 10.1 too large. There's no comparison with the iPad here: The Galaxy Tab 7.7 is a different, smaller class of tablet, one intended to fit in (your perhaps very large) pocket.