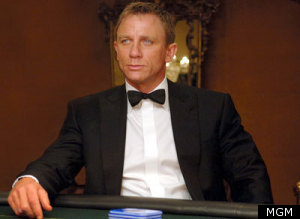 The movie will be called "Skyfall," Daniel Craig is back as Bond, Javier Bardem and Albert Finney are indeed involved (Bardem as the villain, Finney as an intelligence official), Naomi Harris is playing a field agent named Eve and the film is working on a $230 million budget.
Here's the synopsis: "Bond's loyalty to M is tested as her past comes back to haunt her. As MI6 comes under attack, 007 must track down and destroy the threat, no matter how personal the cost." PREVIOUSLY: The name is Bond, James Bond. But what is his next movie named? We should know that soon. Sony is staging an elaborate press conference to announce the as-yet untitled 23rd film in the official James Bond canon on Thursday, and we're bringing you all the details.
Here's what we know so far. Sam Mendes is directing, while Daniel Craig is back for his third go as 007. Javier Bardem will be a villain, Naomi Harris will supposedly be Moneypenny, Bérénice Marlohe is rumored to be the next Bond Girl, Albert Finney will allegedly play Judi Dench's boss at British Intelligence, Ralph Fiennes has some sort of potentially evil role and they're filming in either India or South Africa. Other than that, we'll just have to wait until the secret agent reveals more -- watch below for new details.