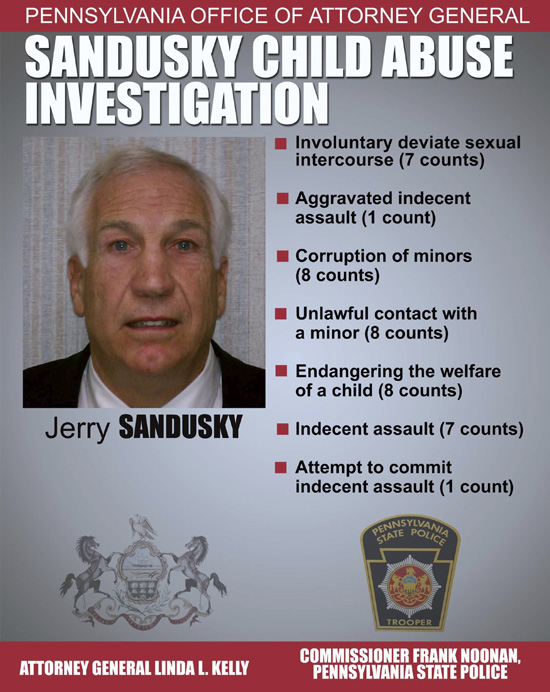 Penn State's interim coach knocked down rumors Tuesday that the embattled football team would decline a bowl bid at season's end. "We've been assured that's not the case for the bowl game," Tom Bradley told reporters at a news conference. He also said that the possibility of the team not playing next year hasn't come up. Bradley praised his football players, saying they are weathering the storm around the sexual child abuse scandal and believes they'll be ready for Saturday's game against Ohio State, another school rocked by a recent scandal. "The mood of the players is very upbeat," Bradley said. "They've been great." He said he believes they'll have enough energy for Saturday's important game in Columbus, Ohio, as the team, 8-2 overall and 5-1 in the Big Ten Conference, remains in contention for the league title.
The scandal revolves around allegations that former assistance coach Jerry Sandusky sexually abused children. The shocking allegations led to the firing of legendary coach Joe Paterno and the departure of other officials because they didn't promptly contact police after accusations surfaced. Noting that Paterno's firing has been a "distraction," Bradley said the players "were great yesterday at practice." As for the rigors of a road game, he said that players form bonds away from home. Bradley expressed pride in his players and emphasized that he couldn't have asked for more from them. "We talked briefly before practice about the game and where we were headed," he said. "I think a lot of times with everything that swirls around that they enjoy coming to practice because it's the one time they can kind of just be with themselves. No one's asking them questions, they're there to play football and they know they have a job to do this week." Talking about communication with Paterno, Bradley said he plans to see him eventually but he said he knows that if he calls him now, Paterno will ask him why he's calling and remind him of his responsibility to focus on coaching.
As it happens, Penn State will be playing a school that faced its own scandal earlier this year, one that cost Ohio State coach Jim Tressel his job. Tressel resigned under pressure after it was revealed he had lied to NCAA officials investigating allegations that Ohio State players had received special benefits from local businesses in Columbus, Ohio. Several players allegedly swapped team and personal memorabilia and equipment for tattoos and other benefits. Tressel became aware of the transactions, which violate NCAA rules, but did not report them on a form all coaches are required to submit. Bradley said he spoke to Luke Fickell, the Ohio State coach, both of whom were thrust into the limelight over their schools' scandals. The two men discussed activity the teams would engage in for the game but Bradley didn't elaborate on what that would be. Last week at Penn State's game against Nebraska, there were dramatic gestures of support for victims of child sex abuse.
Across the country, criticism of Penn State has festered over the scandal, but Bradley said he was assured by Ohio State officials that there will be no problems for his visiting team. "It's still Ohio State-Penn State. One of the things I want emphasize right now, this is all about the players. This is about our team. It's about their team," he said. Playing at the "horseshoe," the nickname for Ohio Stadium because of its shape, will make for a "great atmosphere." "I mean, it doesn't get any better than that, and it's going to be an exciting game. We're both playing for the title, so there's a lot on the line, and it will be a very spirited match regardless of what's going on outside." At a press conference in Columbus, Ohio State student leaders urged their counterparts to display good behavior at the game. They are developing ways on social media to honor victims of sexual abuse. Fickell himself was asked what it is like for players to perform on the field while controversy is swirling. "Young people are very resilient," he said. "They do a good job of continuing to move on." He also said Penn State and Ohio State have many similarities: a fabled football history and great fans and alumni.
Ohio State is 3-3 in the Big Ten and 6-4 overall. Bradley wouldn't answer a reporter's questions about Sandusky. He said he was preparing for the weekend game when the former defensive coordinator was interviewed Monday night by NBC's Bob Costas. Sandusky insisted in the interview that he is innocent of charges that he sexually abused young boys and denied he's a pedophile. In a telephone interview with NBC's "Rock Center With Brian Williams," Sandusky admitted that some details in the graphic 23-page grand jury report released earlier this month are correct. "I could say I have done some of those things," he said. "I have horsed around with kids I have showered (with) after workouts. I have hugged them, and I have touched their legs without intent of sexual contact." Still, Sandusky claimed he has been falsely accused of crimes.
When pressed, Sandusky, 67, said the only thing he did wrong was having "showered with those kids." The national spectacle has outraged and embarrassed Penn State students and alumni. An alumni-led effort has raised $372,000 for abuse victims in less than a week, a Twitter message said Tuesday. Investigations have been launched by the Pennsylvania attorney general's office, the U.S. Department of Education, Penn State, and Second Mile, the charity founded by Sandusky. Costas asked probing questions in his interview: "Are you sexually attracted to young boys, to underage boys?" By Joe Sterling, CNN