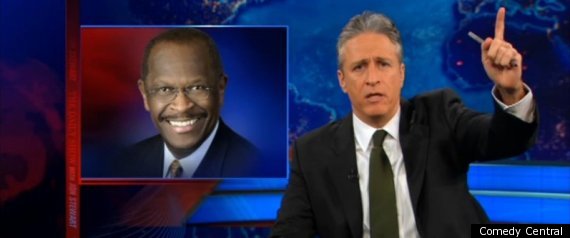 An Illinois teacher at Eureka High School is on paid suspension for showing clips of "The Daily Show" in school. Rhett Felix, a first-year government and law teacher, showed three segments from Jon Stewart's show to his sophomore-level class, The Pantagraph reports. Parents of the students complained that the clips had obscenities, sexual content and the perception that the teacher carries liberal bias. "When he returns, he will be reassigned to another teaching assignment," School Superintendent Randy Crump said at a school board meeting Monday, according to The Pantagraph. "That's all I can share at this time." Felix reportedly showed clips from the Oct. 31 and Nov. 2 episodes of the satirical "Daily Show," which discussed sexual harassment allegations against Republican presidential candidate Herman Cain and offering health insurance discounts for those who are physically active.
The Cain segment made euphemistic references to the presidential candidates's pizza business, like "You want sausage on your pie?" and "Want me to stuff your crust?" Felix also told his students to do an Internet search of Republican presidential candidate Rick Santorum, referring to his well known yet obscene "Google problem," but warning students not to click on the site, the Peoria Journal Star reports.
Parent Thomas Enterline told The Pantagraph that he didn't find Stewart's clips funny, but "deplorable." "I look at what happened out at Penn State," Enterline told the publication. "Even though this doesn't rise to that particular level, I would ask that this board look at these allegations and respond with appropriate resolve." Felix's suspension comes weeks after a judge in October upheld the decision to fire an Ohio public school teacher who was accused of teaching religious beliefs in class and for keeping a Bible on his desk. Earlier this month, a New Mexico teacher was put on paid leave for allegedly issuing a "sex survey" to her students that parents found offensive. Although students later spoke out admitting to issuing the survey themselves -- and said they had done so for years -- Rio Rancho High School upheld its decision to keep the teacher on leave.
(WATCH some of the segments Felix reportedly showed in his class.)